Aubrey O'Day Graces Playboy Magazine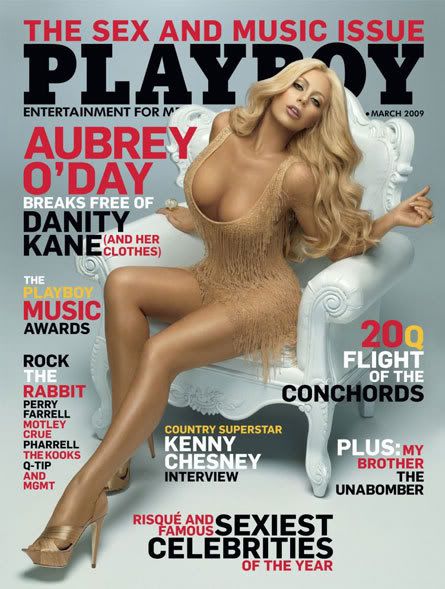 One of the most talked about magazine covers in a long while is former Danity Kane front woman Aubrey O'Day's Playboy cover. The talk of the cover has been a big thing for a while, and it's finally here! The world famous cover is photographed by Markus Klinko[who did Beyonce's "Dangerously In Love" album cover]. Aubrey is giving me Mariah on this cover. I think the cover is just alright. I think it could of been a whole lot better but oh well.
In My Own Words:
The baddest bitch herself, Trina is set to return with a new untitled single said to feature Lady GaGa. Lady GaGa is currently ruling the airwaves with her #1 pop single, "Just Dance". The upcoming single is said to be produced by Jim Jonsin, who produced for Trina before. The new album, "Amazin'" will be in stores later this year. I'm really excited about a new Trina album. "Still da Baddest" was really hot so I hope she can follow up on that. Since I've always kept up with Trina's career, I do know she is notorious for pushing albums back and changing her album titles. Let's hope we don't get too much of that this time.
Video: Enrique Iglesias feat Ciara - Takin My Back My Love
New video!
Music Biz:
Nick Cannon Scores "America's Got Talent"
Nick Cannon has signed on to host America's Got Talent. Cannon will be in the house when the NBC competition series returns next summer and he hopes this will be the beginning of a long and successful relationship with NBC. Cannon said in a statement, "(NBC executives) understand my vision as not only an entertainer but as a creative show producer. I look forward to working with the network and their executive team on 'America's Got Talent' and other shows to come."